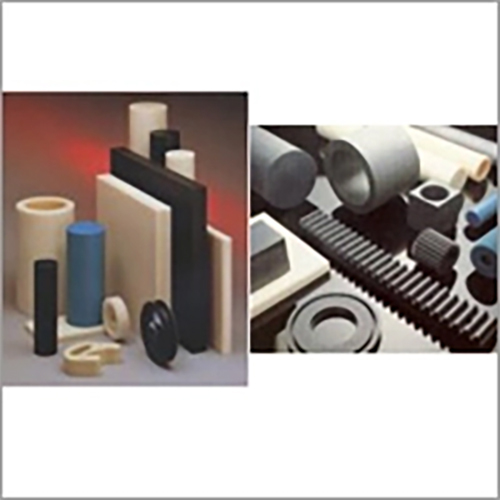 Product Description
Our clients can avail from us superior quality Cast Nylon. These products are widely appreciated in the market as we manufacture them using high-grade nylon obtained from the authorized vendors. The range of products is light in weight and very durable as it is manufactured by our expert professionals by employing latest tools and machinery. The Cast Nylon is available in various sizes and shapes to meet the varied requirements of our clients.

Other details: Cast Nylon a popular material offers an excellent combination of physical properties, including heat and chemical resistance. It is also fairly easy mould with Nylon 6. It is easy to depolymerize moulded and extruded product into nylon basic raw material.


TRP M+PA6:
This is most widely used cast nylon used as bearing material. This cast nylon substitutes bronze, brass, metal, wood, rubber, polymide6 (Nylone6PAG). This has high mechanical strength, stiffness and dumping properties, wear and tear, friction, and corrosion. We offer PA6 in any color.

TRP M+OILON:
The nylon is an internally lubricated cast nylon specially developed for UN lubricated moving part application. This has high strength polymer with enhanced wear resistance (up to x 10) and reduce coefficient (-50). It is available in black, red, yellow, .

TRP M+MOS2:
Polyamide 6 (Nylon 6 PA6G+MOS2) a cast, partially cross-linked with additives, like Nylon 6 MOS filter. This provides excellent wear resistance, self-lubrication and low friction features. It is a perfect material for dynamic bearing applications even at 100

TRP M+HS BLUE:
Polyamide 6 (Nylon 6+HS Blue) is tough heat stabilized cast nylon 6. It has better impact strength and fatigue resistance compared to other nylon. It provides an outstanding material form large gear racks and pinion, successful replacing phosphorus, bronze and cast iron in many applications.

Industries:
Automobile industry, Chemical industry, Tyre industry, Beverage industry, Textile industry, Sugar industry, Material handling industry, Electrical industry, Engineering industry, Glass industry, Agriculture industry, Pulp & paper industry, Mining industry, Ship building industry, Food industry, Steel sector, Railways

Applications:
Wear pad, pump gears, rings, dry gear, bushes, roller, washers, liner, timing, pulley, gear, pulley insert split brush, rope way pulley, tyre guide, uncoupling wheel, star wheel, support roller, guide, coupling, sprocket, scraper, wear strips, bevel, gear, bearing, bogie pivot liners, spherical insert, wear pad, support roller, pedestrial liners, mill bush, liver, wear plate, pulley pad.

Advantages:

High impact resistance
Excellent abrasion resistance
Corrosion resistance to most of acid & chemical
Low coefficient of friction
Toughness & impact resistance over wide temp range
Property resistance at elevated temp
Lighter than metal
Easily merchantable
Water repellent
Compounding
Lighter than metal (weight is 1/7 of steel)
Low noise production
Longer life
Physiologically inert
Enter Buying Requirement Details